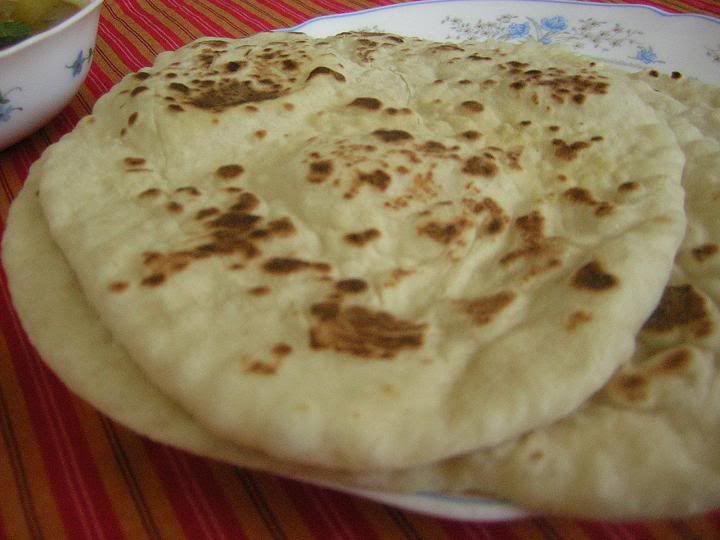 Roti ni kalau Liza beli kat restoran mamak, diorang masak dalam dapur khas yang berupa macam tempayan berwarna merah oren tu. Roti ni memang lembut dan sangat mengenyangkan. Bagi yang ingin menukar selera bila dah jemu makan nasi, bolehlah cuba roti naan ni. Cicah dengan kuah kari, pudina chutney, keema, kari kambing dan sewaktu dengannya. Memang terangkat. Tapi, selalunya liza suka beli set bersama ayam tandoori. Kalau makan sorang memang tak boleh habis. Selalunya, liza kongsi dengan hubby. Hai... sehati sejiwa la katakan. Hehehe....
Roti Naan
Resipi Asal: P.Desai
Penyumbang resipi: Puan Palatable (Forum GDB)
Ingredients
250g Maida (All purpose flour)
1 Teaspoon Dried Yeast
1/2 Teaspoon Baking powder
1 Tablespoon Kalonji (Nigella seeds) tak letak pun boleh
1 Teaspoon Salt
1 Teaspoon Caster Sugar
2 Tablespoon Curd (Yogurt)
2 Teaspoon Oil
1/4 Cup Warm Milk
1/2 Cup Warm Water
1 Egg (Optional)
Butter
Chopped Coriander for garnishing

Method:
1. Sieve Maida, salt, baking powder together in a bowl. Add Kalonji in the flour.
2. In warm milk dissolve dry yeast, let it dissolve till it becomes frothy.
3. If using egg, beat the egg with caster sugar and add it in the flour.
4. Add oil to the flour and mix it properly.
5. Use warm water for kneading the dough. After adding the warm water knead the dough. Knead the dough for 10 minutes for fluffy and soft Naan.
6. Once the dough is kneaded brush it with oil and cover it with cling film. Let it rest for 1 - 2 hours in warm place. The dough will get double in size.
7. Make small balls from the dough and let the balls rest for 20 minutes. Now roll out the naan in desired shape, preferrably oval in shape.
8. Pre heat the oven on 180 degree celcius. Grease the bakin tray with butter and place the rolled out Naan and bake the Naan for 15 - 20 Minutes till it becomes fluffy and you see brown patches.
9. Once the Naan is ready brush it with butter and sprinkle chopped coriander on top. serve it with any rich Curry.

Nota : Saya masak gunakan kuali leper saja. Baking powder dan kalonji tidak saya gunakan. Hati2 bila campurkan air, jgn tuang semua takut
terlembik jadi campur sedikit2 dahulu.